Vegan food has come a long way from hippy and the hipster, now it's set up shop in Selfridges and is every bit as stylish as you'd expect.

'Now that's a nice coat,' says P fingering the colourful fabric. She turns over the price ticket to reveal £3575.00, 'but not that nice,' she concludes, rapidly letting go.

Adesse is what used to be Selfridges Corner Restaurant on the Second Floor. It's just behind the Womens Designer Galleries section where, on inspection, all the clothes have gasp-inducing price tickets.

What do people holding that kind of spare change want to eat? Well usually something expensive but light, fashionable but not filling, and preferably a bit 'woke'.

Adesse is thus a good choice for Selfridges, a new restaurant by award-winning chef ​​Matthew Kenney. Kenney has plant-based restaurants around the globe, as well as Hollywood A -listers as clients. They all love a bit of elegant vegan.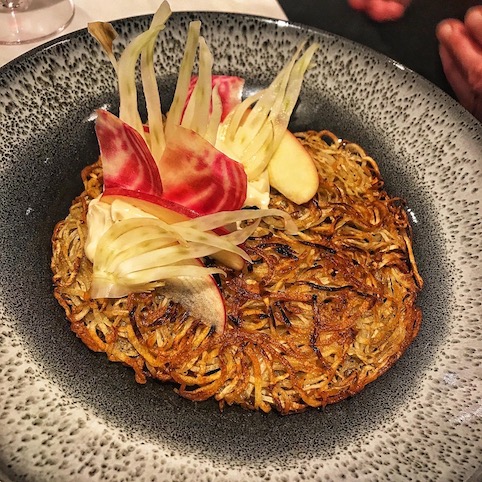 It's also part of Project Earth, which is Selfridges' sustainability commitment to offer more meat-free and plant-based options in its restaurants and Foodhall.

It's a clean lined, minimal styled restaurant that's very much in keeping with its surroundings. Tables are linen-free and utilitarian chic in both style and colour. The menu is minimalist too, the dishes' ingredients are listed with no 'lovingly caressed by the grill' flim flam description just the facts.

We share 'baked raclette, toasted sourdough, house pickle, shichimi oil.' It's not real cheese of course, I assume that it's nut based as most Vegan cheeses and sauces are, but it does a very good impression.

It is tangy and umami and we love the pickles of cauliflower, carrot, beet, cherry tomatoes and chili. The crunch is perfect and the shichimi oil (pepper, orange peel, black sesame and white sesame seed, Japanese pepper, ginger and seaweed) is a palate powerhouse. Really loved those pickles.

I spy jackfruit on the starter menu, but despite all the hype I'm still not buying into jackfruit; there's something about it that repels me.
Nothing wrong with the idea of 'frittata, green goddess, cashew yoghurt, shaved vegetables and herbs'. It's an absolute joy to look at as well as to eat. The frittata is not stodgy and the cascade of veg, including spiralized carrots and wafer-thin two tone beets, need only a bit of sharpness, some vinegar or lemon juice, to improve them imho. The green goddess sauce is a riot of flavour against the creamy yoghurt.

P has a potato and celeriac rosti, creme fraiche, fennel and apple salad. The rosti is crisp on the edges, soft and sweet in the centre, in other words it's perfect. The apple and fennel combo is clever, the crisp sugar of the apple against the absinthe of the fennel is a lively combination.

On to mains and more plates of beauty with a staggering assemblage that's rather sold short by the prosaic description of 'raw courgette + tomato lasagne, pistachio pesto, macadamia ricotta.

It's at room temperature, which does disappoint P a bit, she likes her mains hot, but of course raw ingredients maintain their goodness better than cooked. It's all good though, once disassembled to make it a bit easier to eat. The pesto is particularly fine against the 'ricotta'.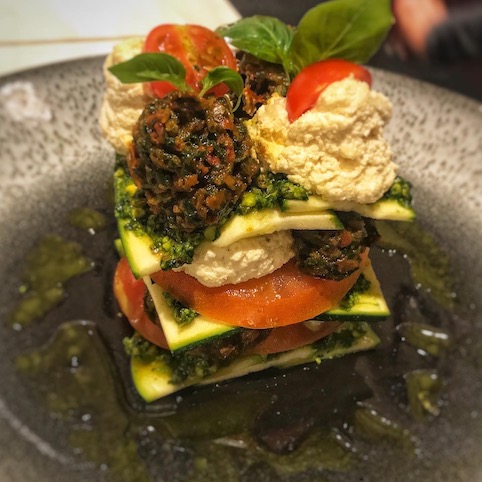 As an aside, the menu is carefully annotated as to diet issues should you be worried – C -Celery, G-Gluten, N- Nut, M-Mustard, S- Sulphites, SO- Soy and SE- Sesame. There are a lot of nuts involved in most dishes though, so anyone with a severe nut allergy needs to be careful

There's a good and extensive wine list of organic and biodynamic varieties, by the way, although the mark up is almost as high as the clothes outside, as well as cocktails, kombucha and teas.
My spicy udon, togarashi, seared tempeh, shiitake mushroom, roasted cashew, and hoisin, is plenty hot, both physically and spicily. I love the nuts and the dense, rich, mushrooms and I even like the tempeh, not usually being a fan of its rather odd pseudo meat-like texture. I feel meat should not be imitated, just replaced.

Fantastic broth and the plump and slippery udon (udon are always plump and slippery in restaurant reviews) go down a treat. A really gorgeous dish down to the last fiery spoonful.

Vegan food is less filling I find, so we are still able to manage a hibiscus cheesecake, berries, pistachio, as well as a brilliant carrot cake with sesame ice cream and beet syrup.


The steel grey of that ice cream is a visual treat and it's certainly the best carrot cake I've had, quickly dispelling memories of a hundred horrors eaten in North London cafes.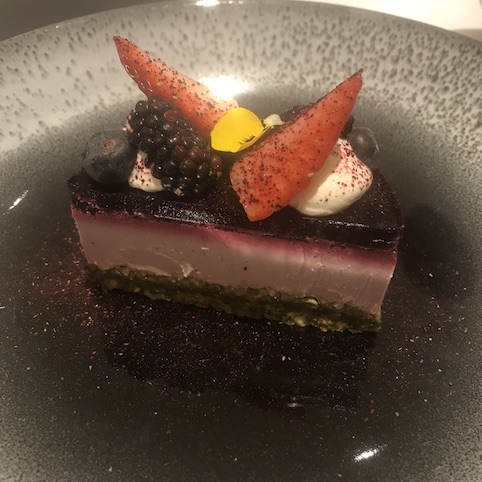 Few foodie people these days think vegan food is boring food, but not many realise just how far it's come as haute cuisine. A visit to Adesse will soon fix that, this is cooking for the future, one where eating meat will no longer be default and we'll all be better for it.