Cava is not just for celebrations. This sparkling wine from Catalonia is certainly fizzy enough to liven up any joyous event, but what about served with food? We decided to see if Cava could handle the sommelier's pairing nightmare – Indian.


Cava is often overlooked as a sparkler, with most people heading straight for the Prosecco when they want a night out on the fizz, or a bulk party drink that won't break the bank. Cava though has a great deal going for it.
It's a Denominación de Origen (DO) sparkler from Spain and only cavas produced in the traditional method can be called "cava", anything else is just a sparkling wine.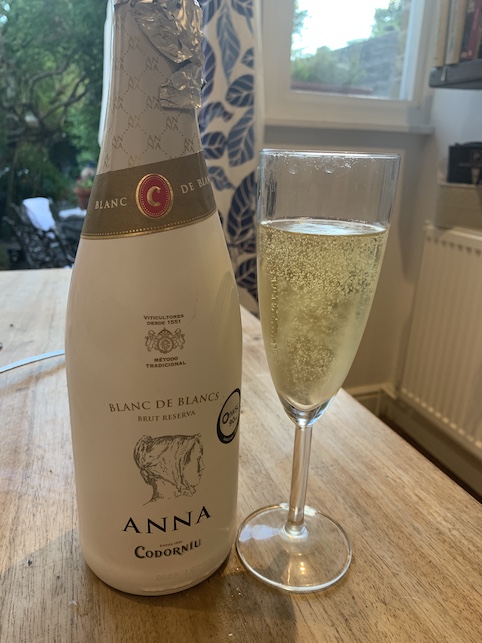 Most cava comes from the Penedès area in Catalonia, and the centre of production is the village of Sant Sadurní d'Anoia where the big guns can be found, namely Codorníu and Freixenet.

Cava is made by the champagne method, and the Spanish still call it champán, or champaña, in Spanish, or xampany in Catalan, but technically that's illegal and you won't find it on any bottle labels. The French get upset, you see, as a good Cava can outperform many a champagne.

Anna de Codorníu Brut NV Sparkling Cava is a combo of the Chardonnay grape with the three classical cava varieties (Parellada, Macabeo and Xarel-lo) which gives it an extra dimension. It comes in a white wrapped bottle which makes it stand out rather beautifully, the only problem is you can't see how much cava is left.

That's ok though, because at around just £13 a bottle you can simply open another. And at a reasonable 11.5% ABV, it won't leave you demolished by the time it comes to dessert.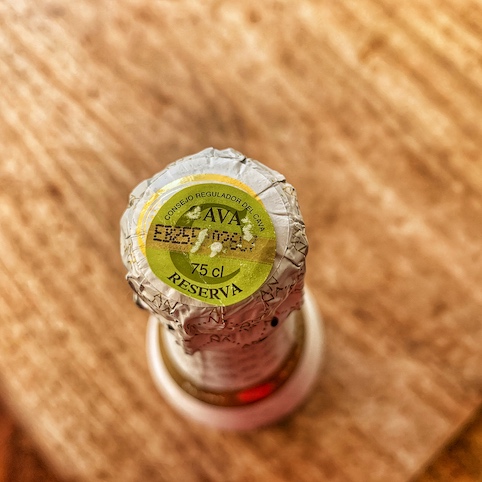 The first cava to incorporate Chardonnay, 'Anna' honours the Codorníu heiress who married the viticulturist Miquel Raventós in 1659. Since then the Raventós family has owned Codorníu and retained the Anna name as a world-renowned brand. This is Spain's favourite sparkling wine – and the Spanish do know a thing or two about cava.
We bet that no one in Spain has ever tried it with a curry before though. Only a Brit would do that.
The Eats
We got our food in from our local (ish) 'Indian' Balham Social who do things differently with a distinctly modern attitude. So the usual bottle of Cobra beer was always out of the question. The food arrived in a stylish bespoke bag and all the dish containers were above average quality. Particularly impressive was the way the containers kept the food looking good, this is not your average Indian and its presentation even on takeaway was perfect.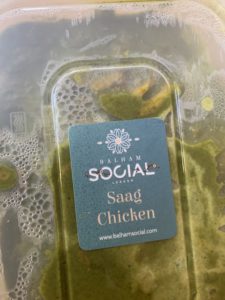 Would the citrus, apple notes of the Cava help or hinder the food? Would the flying Cava cork break another lampshade? Can Cava get turmeric stains out of the carpet? We aimed to find out.

Of course opening the Cava is always fun; do you go for the celebratory loud pop, plus ricocheting cork, or the restrained 'pomp!' you get when calmly twisting off the cork? We are 'pompers', less waste and damage.

Received wine wisdom is that sweet wines go best with spicy food, and it's certainly true that a wine which seems unbearably sweet on its own becomes a different animal when the chili kicks in. Still rules are meant to be broken and Anna is as dry as Jeremy Paxman,

Our first dishes of tandooried vegetables, paneer and Masala Chana, Punjabi samosa with mint, tamarind chutneys and sweet yoghurt, were superb; fantastic flavours that the Cava worked very well with, crisply refreshing our palate in between bites with its citrus and fizz.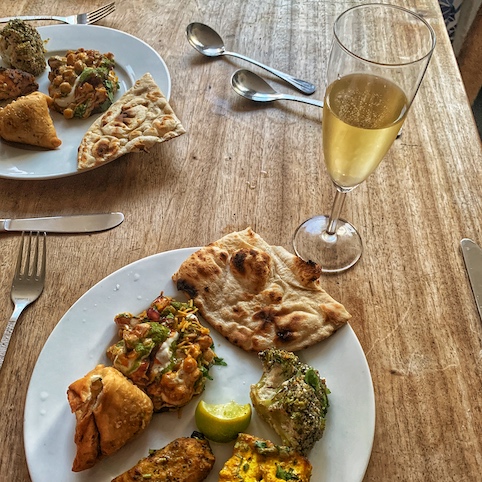 At first it seemed odd to be drinking a sparkler with an Indian meal, and not a fizzy lager, but we soon got used to it.

One particular advantage of Cava over having beer with Indian is that it didn't fill us up, which was good as the food was generously portioned.

Grilled lamb chops were stunningly good, perfectly charred outside and pink within, fiercely hot which had us gulping the chilled Anna, and slathering on the supplied mint chutney, to douse the flames.

This and excellent chicken and spinach, the spinach creamily pureed, perfect basmati and fluffy nans made for a great meal made extra special by the spin put on by Cava.

Try Cava with your next meal, you'll be very pleasantly surprised at just what an everyday drink it can be,

Clue up on Cava – there's more to it than you might think. www. cava.wine/en

Cava De Guarda
Aged for a minimum of 9 months, Cava De Guarda is the youngest of the Cava range.
Bursting with freshness, these Cavas are light, fruity and citric, often expressing a palate of white flowers and fruits. Perfect with light apéritifs or fresh seafood.

Cava de Guarda Superior Reserva

The second youngest, Cava de Guarda Superior Reserva is aged for a minimum of 18 months, creating more depth and complexity. Very fresh, with notes of peach, apricot and a touch of toast, these Cavas are ideal with crab cakes or grilled mushroom burgers.

Cava de Guarda Superior Gran Reserva

Cava de Guarda Superior Gran Reserva is even more complex, aged for at least 30 months. With strong notes of toast, baked apple, walnut and butter alongside smoky flavours, these Cavas are very elegant and a great match for a wide array of cuisines. Try alongside a traditional Spanish paella or vegetable linguini.

Cava de Guarda Superior de Paraje Calificado

And finally, as the name suggests, Cava de Guarda Superior de Paraje Calificado (qualified location) indicates Cava from a determined area specially chosen for its distinguished terroir. Aged for a minimum of 36 months, but often much longer, these Cavas have an amazing aromatic complexity with ripe white and yellow fruit on the
nose with notes of aromatic herbs, mushrooms and truffles.

They are the perfect pairing for more complex meals such as chicken katsu or vegetable curry.

Cava Rosado

Or why not try a Cava Rosado to add even more elegance and glamour to your summer get-togethers? Also made in the traditional method and with the same categories as white Cava (except for Paraje Calificado), Cava Rosado is made with the skins of red grapes resulting in a beautiful pink colour and notes of red fruits, fresh
berries, bay leaves and flowers. Perfect to have as an aperitif or alongside your favourite fruit salad.